E-mail Notifier
A WLR Reporting Solution for Peloton™ Products
No longer do you have to find your reading glasses to read PDF reports on your phone!
Formatted for the iPhone, the Email Notifier™ by Well Lifecycle Resources, allows you to setup customized email schedules, define the data and filters, and send email reports to a distribution list per your customized schedule, straight from the WellView®, SiteView®, or RigView® database.
Formatted for Mobile Devices
Reports formatted for easy viewing on mobile devices. No more scrolling through PDFs!
Custom Peloton® Reporting
Create unlimited batch reports that send only the important information to any email address.
Scheduled Distribution
Set up customized email distributions on a customized schedule to run independent of the Peloton® software.
Data Imports
Make it Easy to Capture Third Party Information in WellView®.
WLR Frac Import™
Our latest version of the WLR Frac Import™ not only imports into the Stim/Treat tables of WellView® with the click of a button, but includes the zones, perforations, frac fluids, proppants, and frac plugs, all at once from one consolidated Excel spreadsheet filled out by your Frac vendors. Our import will then store the information in WellView® that you need to have a complete schematic of your Frac Job!
WLR Flowback Import™
Our Flowback Import was designed to not only import in the flow information from the field, but it then creates the Job, Daily Reports and Daily Summary for you in WellView®, for every day of the flow test, all at once! You get a daily summary for each day automatically and all that the office has to do is enter the costs for each day…  Job Complete! 
The WLR Flowback Import™ provides everything needed for multi-well graphical reporting of Oil, Gas, and Water levels within WellView®.
Automatically Create the Job, Day and Daily Reports
Schedule and Automate the Import Process
Output Multi-Well Graphical Reporting
WLR Fluid Levels Import™
Using WLR's proprietary Fluid Level Import™, Fluid Level depths, rates, and pressures can be imported from any historical data source to provide valuable analysis of the data over the entire life of the well and in comparison to offset wells.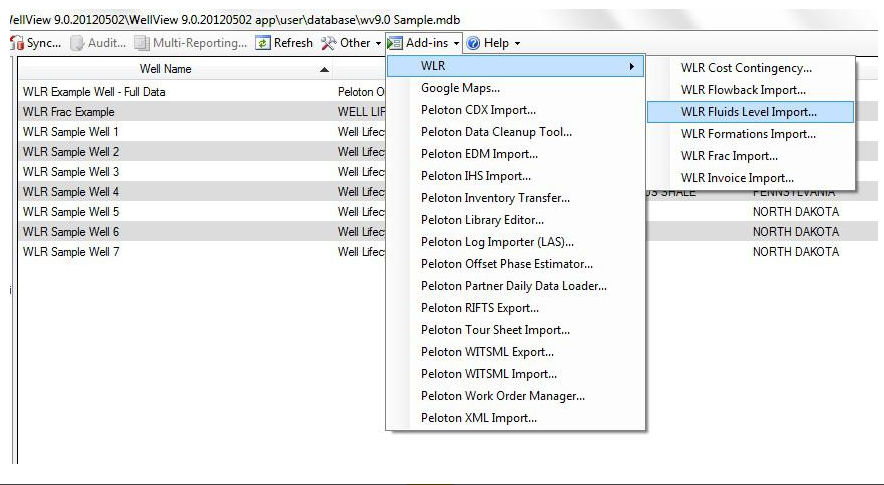 WLR Geologic Import™
Adding the geologic picture to the wellbore schematic in WellView® can prove to be very valuable. The WLR Geologic Import™ will allow you to easily import formation and lithology data from other geological source systems such as Petris®.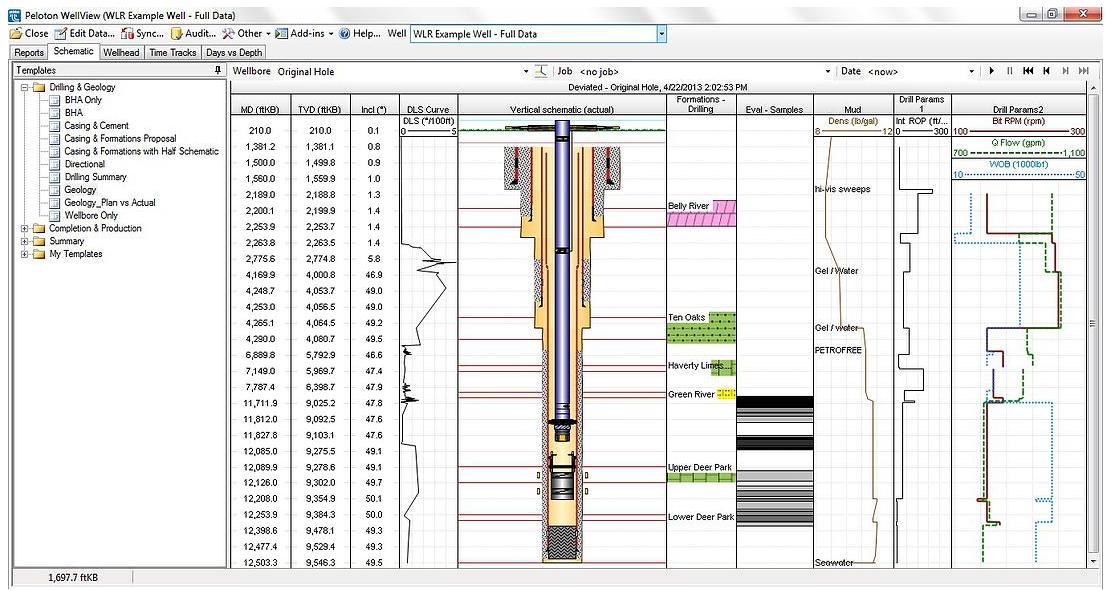 WLR Invoice Import™
It is invaluable in the well planning process to have the complete cost picture of your historical wells; including not only the AFE and Field Estimate costs, but the actual Paid Invoice amounts as well. The variances between these three cost types will allow you to be more cost efficient from your next well to your entire E&P budget for the year! WLR's Invoice Import™ can help you to integrate your accounting system to the Peloton® database either as an automatic integrator module (integration runs on a schedule overnight), or as a WellView® Add-In Tool that can import invoices on demand.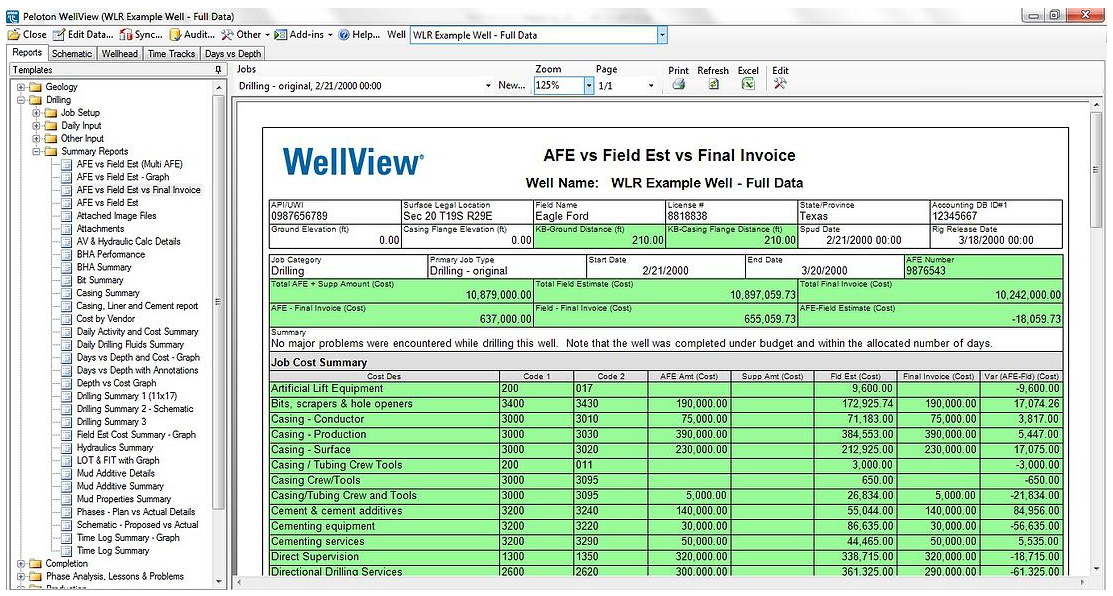 WLR Cost Contingency Adder™
The Cost Contingency Adder™, from WLR, automatically adds a cost contingency record and amount to each day of the daily costs. Contingency records can be calculated and recorded specifically for tangibles or intangibles, and/or by work type (drilling, completion, etc.) depending on your cost chart of accounts. Contingency % amounts can be custom defined and even stored in WellView®. The Cost Contingency Adder™ can be ran every day to ensure that each daily operation record of the well contains a WellView® cost record with the proper contingency dollar record added for each day.